Toni Giffin
Toni Giffin is President and CEO of Goodwill Industries of San Diego County and completed a program at SDSU in 2005. Captured by Goodwill's mission to help people reach their full potential through learning and the power of work, she first began at Goodwill 20 years ago and then worked her way up to lead the organization.
Environmental impact of reusing clothing and home goods
"Goodwill® was founded in 1903 in Boston to help people regain their dignity and overcome poverty, it was the original circular economy model". Toni explains how Goodwill created a reuse mentality. They took what people no longer needed or wanted and built a social enterprise. Currently, Goodwill San Diego's social enterprise model is to first sell what is donated at their retail stores or online, shopgoodwill.org. Items not sold go to their Clearance Centers or Outlet locations; from there what is leftover is sold to recyclers. The Goodwill network is exploring collaborating with companies who take end of life textiles and turn it into new fabric. Toni shared, "We have the product, the technology is out there, we need to figure out how we can make it economically feasible".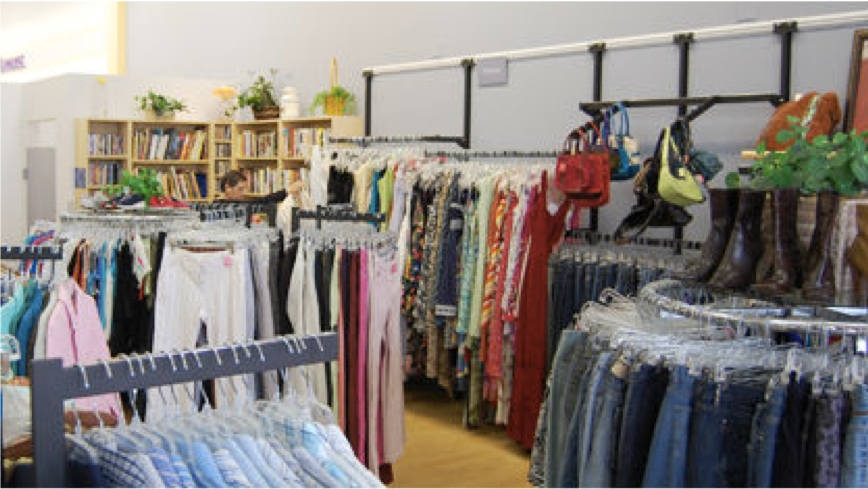 There is technology that exists to help with this process. Toni mentioned that some companies take oil-based textile and turn it into new fiber. In order for the Goodwill network to participate, "we would need to sort the clothing efficiently by fiber content." There is current technology that can identify the fiber content as it passes through a beam of light.
Goodwill is one of the largest collectors of used textiles in the United States. The Goodwill network diverts more than 3 billion pounds of clothing and household goods from landfills every year. Goodwill San Diego diverted 13 million pounds from going to our local landfills.
Fast Fashion
Toni is noticing that the clothing made today is not lasting as long. "We have vintage clothing in our stores from over 50 years ago that still is in excellent condition. Inexpensive "fast fashion" is flooding the market with clothing that does not hold up well and has a shorter life span."
She thinks that the fashion industry is becoming increasingly aware of their impact and hopes they are making changes with our planet in mind.
"Goodwill wants to keep as much product as possible out of our landfills and in circulation. Our 501(c)3 non-profit social enterprise has a triple bottom line, People (Social Performance: Serving our mission and ambassadors (employees), Planet (Environmental Performance: Sustainability efforts), Profit (Economic Performance: Ability to fund our mission). Something everyone can do to help our efforts is donate." Toni describes how donations from the community are "the magic" that makes it all possible.
SDSU experience
15 years ago, Toni completed a program through the non-profit leadership institute focused on how to use collaboration to create a bigger community impact. "It helped me solidify the collaboration model I use today, both internally with our staff and externally with our community partners. I still glean from what I learned, particularly, how we can increase our impact when we work together".
She challenges us to keep the circular model going by continuing to donate and invites people to connect with her via LinkedIn @Toni Giffin.